It was a crowded evening for the first reading of 2018. Local bookstore Bear Pond Books was onsite hawking our readers' works, and we had two wonderful faculty members sharing from their books: Miciah Bay Gault and Robin MacArthur.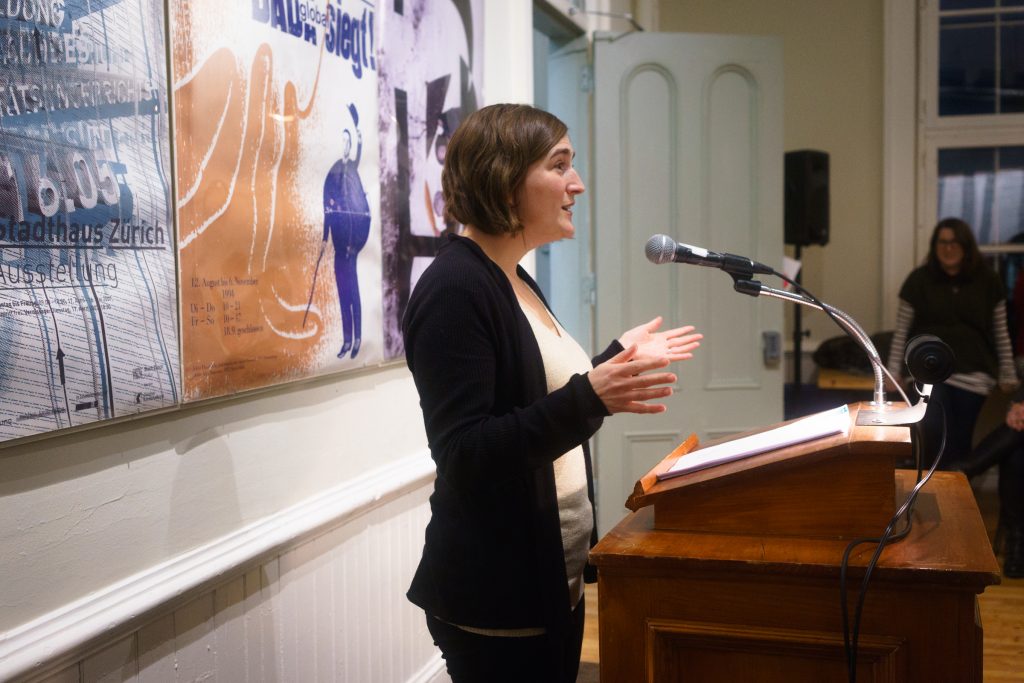 We in VCFA's Writing and Publishing program know Miciah Bay Gault as the Program Director, professor in our Publishing and Fieldwork program, editor of Hunger Mountain, the leader of our cohorts, a fellowship director, a devoted mother, and a kindred spirit. She has been published in Tin House, The Southern Review, Agni, and The Sun. She's a "Super Woman," as Cammie Finch introduced her, adding: "what really intrigues me about Miciah is the way she can transform the world we think we know into wholly original and unexpected stories."
But while we interact with her on a near-daily basis, most of us had never heard her work. Last Friday, she changed that with a reading from her novel-in-progress, which she attests is "days away" from being finished. It is August, late summer, in a New England tourist island, and 28-year-old Lydia yearns to leave the place where she always grew up. It is the kind of place where everyone knows each other and where people stay in place, slowly sinking into the sand. "I was an expert on tourists," Gault's character says. "They didn't know me, but I knew them."
Gault grew up on Cape Cod, making her uniquely qualified to bring such a place to life. It is a vivid, contemporary portrait of a place we only think we're familiar with. Needless to say, we're looking forward to when Bear Pond Books will stock her work.
Next was Robin MacArthur reading from her debut novel, Heart Spring Mountain. We first-year students are fortunate to have MacArthur teaching a workshop with us this semester. "I'll come out and say that I'm a little jealous," said Jad Yassine, the 2nd-year student who introduced her.
MacArthur is a Vermont native who lives on the same farm in Marlboro, Vermont where she was born, in a home that she built with her family. Last year, her debut collection of stories, Half Wild, won the PEN New England Award for fiction; she was a finalist for both the Vermont and New England Book Awards; and she is a VCFA alumnus herself.
Heart Spring Mountain is the story of Vale, a woman who returns to her native Vermont to search for her addict mother, lost in 2011's Tropical Storm Irene. Written from the perspective of three generations of women, it is a story about returning home, finding hope in the dark, and family secrets more shocking than Vale could ever imagine.
Combining themes of personal tragedy, communal strength, climate change, and the dark side of Vermont's supposed tranquility—the eugenics movement of the 1920s and 1930s—it is "nuanced, poetic, and evocative," according to Publishers Weekly, which continues to say "MacArthur empathetically depicts each of her characters in their wounded but hopeful glory." At her alma mater and in front of her new students, MacArthur read a selection from this uniquely powerful work, one that is grounded in place.
https://frontmatter.vcfa.edu/wp-content/uploads/2018/02/DSC06848.jpg
1600
2400
Blake Rong
https://frontmatter.vcfa.edu/wp-content/uploads/2018/09/VCFA-Logo-300x167.png
Blake Rong
2018-02-14 21:46:48
2018-02-14 21:46:48
Two of our own Professors for our First Reading Of 2018