We've been busy here at VCFA for the past few weeks: classes, readings, modules, mixers, and most notably, the 5th Annual Vermont Book Award Gala, held Saturday, November 9th in Alumnx Hall. The Gala has become a go-t0 event for literati in the Montpelier area since it's inception:
The inaugural Vermont Book Award was given in 2015. Vermont College of Fine Arts created the award to continue its mission of promoting emerging and established artists, especially those with deep connections to the state of Vermont–and to draw attention to a state uniquely suited for creative enterprise.
The annual Book Award Gala is a celebratory evening honoring these talented artists and the rich literary community that surrounds them.
–from the 2019 program
The Gala
To say that a good time was had by all is an understatement. To have such a special event that is centered around literature and the arts was good for the souls of all in attendance. Writing & Publishing students got the chance to rub elbows not just with faculty and staff, but also with the community at large. It was a "fancy" event, meaning we could dress to the nines if we so desired, and, pretty much everyone did.
Especially the students. The attire was cocktail or formal, and as you can see, we did our best to "blend."
Okay, maybe not blend as much as SHINE!
The Award
But, as much fun as dressing to the nines and posing for pictures was, that's not really what the Gala is all about. The Gala is about the Vermont Book Award, and we were treated to some amazing writers, nine in all, sharing their work. When asked if the author I wanted to win was conferred the honor, I had to say that I didn't really have a winner in mind. They were all fantastic.
First we heard Poetry from Sue Burton's 2018
collection Box. Sue is an alum of VCFA's own MFA in Writing program and lives in Burlington.
Michael Collier was next. The author of seven poetry collections has won several important prizes. He teaches creative writing at the University of Maryland.
Poet and fiction writer Anna Maria Hong followed. She has work in fifty+ anthologies and journals and teaches at Bennington College. Ms. Hong couldn't attend, but past VBA recipient Kerrin McCadden read from Hong's book Age Of Glass.
Next came another VCFA Alum, this time from the Writing for Children & Young Adults program. Daphne Kalmar read to us from her debut novel  A Stitch in Time. (I have to admit that, when asked which author I wanted the award to go to, Ms. Kalmar was a strong contender, and most of my classmates agreed. Her book cover rocked as well.)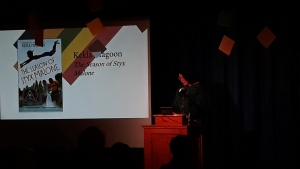 Another Alum, Kekla Magoon (Writing for Children and Young Adults) followed, as did Rebekka Makkai,
Rounding out the readings were Leath Tonino and Tony Whedon.
Finally, However
The winner of this years Vermont Book Award, Jason Lutes blew us all away with his graphic novel Berlin. Lutes has been working on this graphic novel for over
twenty years. A work of historical fiction that describes the fall of the Weimar Republic and rise of facism/Nazism in late 1920's, early 1930's Germany, this series of 22 magazines has been complied first into 3 books, and most recently into one complete book. The work has won high praise over the years, being called "one of the great epics of the comics medium," and landing on Rolling Stones "50 Best Non-Superhero Graphic Novels".
When Mr. Lutes took to the podium he commented that he didn't have a speech prepared, since he didn't think it was possible that a graphic novel could possibly win the award. He shouldn't have been so surprised. The book is amazing, and he well deserves the honor.
and then…
The snow has been blanketing the ground here in Montpelier, stuck in its current cycle of snow/melt–snow/melt. There's the Thanksgiving break followed by the last three weeks of the semester and the long winter break. Time has flown here at VCFA. It's a great place to be.
https://frontmatter.vcfa.edu/wp-content/uploads/2019/11/20191109_200015.jpg
2322
4128
Darla Hitchcock
https://frontmatter.vcfa.edu/wp-content/uploads/2018/09/VCFA-Logo-300x167.png
Darla Hitchcock
2019-12-19 17:12:34
2019-12-19 17:12:34
The Vermont Book Award Gala