The best art is grounded somewhere. We are all tied to memories of where we grow up, where we settle down, where we spend time in between. At our fourth reading, faculty members Sean Prentiss and Jessica Hendry-Nelson both talked about the value of place and how they ground their work in very precise settings from rural Pennsylvania to northern Vermont.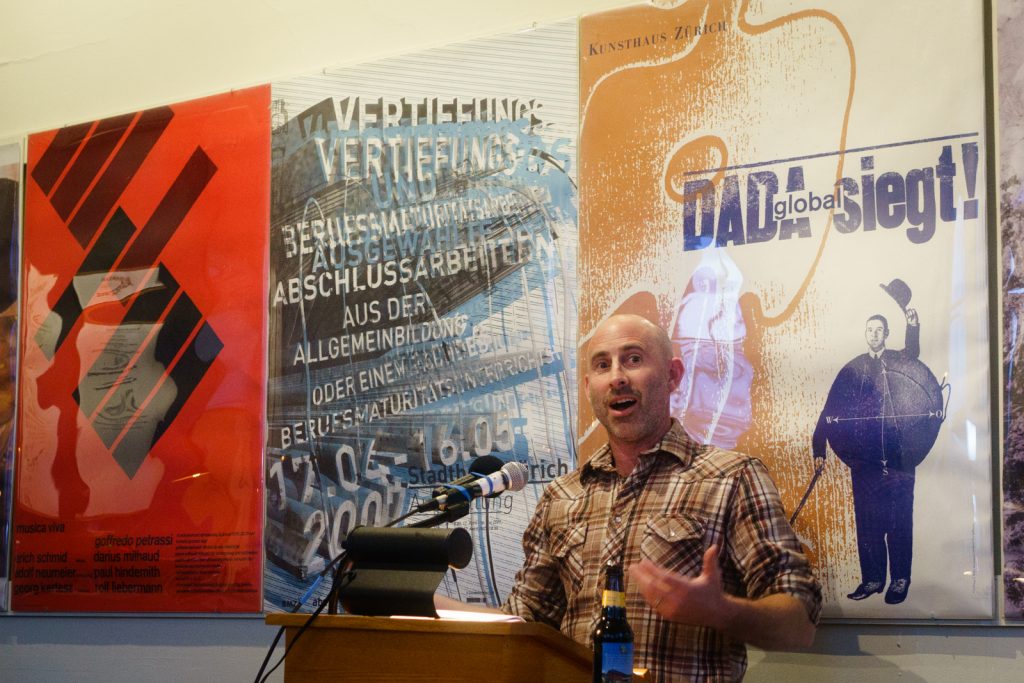 First up: Prentiss, Faculty in nonfiction, an environmental writer, and the author of Finding Abbey: A Search for Edward Abbey and His Hidden Desert Grave. "I've got two really depressing essays," he began, "so we'll have a fun night."
He painted a picture of Clarion, Pennsylvania, a town of 2000 people, "a town as lonely as a breeze, as empty as a heartbeat." In Clarion, time stands still in the cold air, and Sean speaks across years to an unseen friend, Doug, Prentiss' wrestling mentor from high school, the two spending the summer of 1989 practicing single leg takedowns in Bangor, Pennsylvania. It is a depressing town, with nothing more than what Prentiss calls "slouching bridges… and bucking back roads leading from nowhere to nowhere." The way it ends is that Doug was drunk in his Mercury Lynx, heading down one of these back roads, when what you think happens happens just the way you think it does. "Is it strange that I'm talking to the air here in Clarion, talking to the breeze?"
After Prentiss finished reading, he looked up and said to the audience: "I will buy a beer for anyone who can guess what poem I stole it from."
The answer, shouted from the back: James Wright, which Prentiss confirmed as his influence for the piece, elaborating: "a Midwestern poet who died of alcoholism." Wright's poem "Autumn Begins in Martins Ferry, Ohio" begins with these lines: "In the Shreve High football stadium, I think of Polacks nursing long beers in Tiltonsville, And gray faces of Negroes in the blast furnace at Benwood, And the ruptured night watchman of Wheeling Steel, Dreaming of heroes…"
Then, Prentiss read a piece about the first house he ever bought: 724 Lockwood, somewhere in Western Michigan. Prentiss was on a tenure track, dodging marriage proposals, he didn't realize how much a house can change you. He imagined hearing the pitter patter of child's steps. This house needs a wife, he told himself, this house needs a child. Eventually, Prentiss finds both, but not at this house—instead, in Vermont.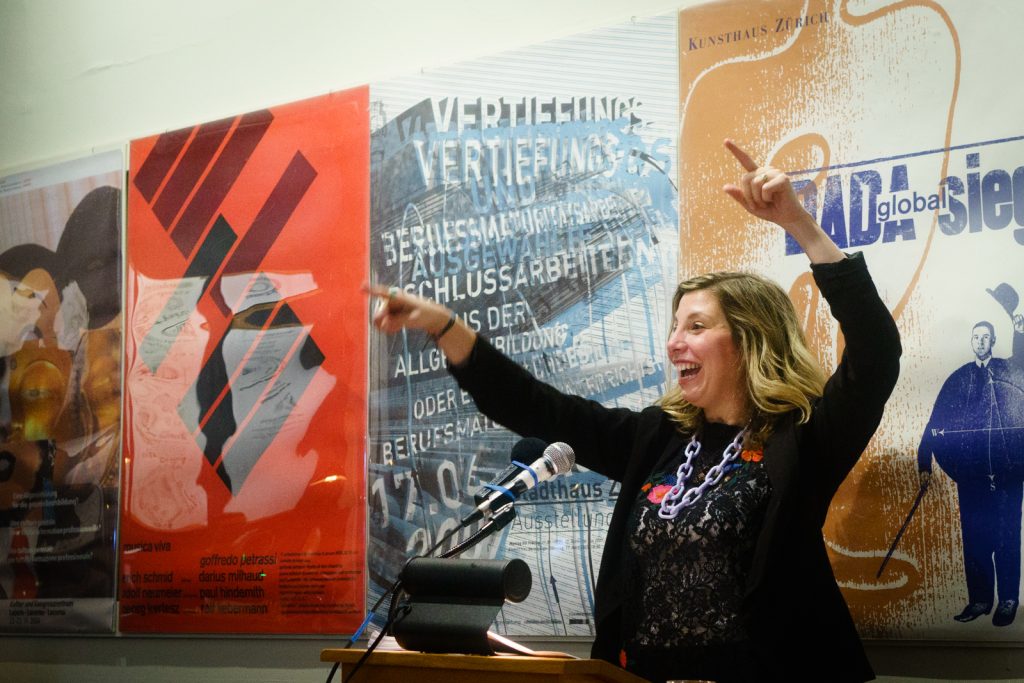 Next: Hendry Nelson, vivacious and full of energy, shouting out to her friends and students in the audience, usually one and the same. Faculty in nonfiction and memoir, her memoir If Only You People Could Follow Directions was deemed one of Kirkus Review's Best Nonfiction Books of 2014. She serves as the nonfiction editor at the nearby Green Mountains Review, a literary publication hailing from nearby Johnson State College that also boasts the talents of Jensen Beach and Liz Powell. We could feel the anticipation. We were amped up. According to Lauren Lang, the student who introduced her, she's "super awesome."
Hendry Nelson gave us a glimpse of her upcoming book—so new it was still spiral-bound and had no clear title. "I love reading with Sean, my good buddy," she said, "I love to put him on the spot. He's in this. He's the one named Sean."
In her piece, three writers—the author, Sean, and the poet Julia Shipley—gather to perform a reading in Craftsbury, Vermont. In Vermont, Hendry Nelson read, "Patterns in this small town are not recommended, they are law." All fences must be white. All men must wear flannel. The three writers wish to expand their reading beyond northern Vermont, "to spread the seeds far and wide," because, "art is the pursuit of cognitive ecstasy…"
Throughout the piece, Hendry Nelson dropped references to Stendhal, a 19th-century nom de plum of the French novelist Marie-Henri Beyle: particularly his travelogue Naples and Florence: A Journey from Milan to Reggio. In that work, a young Stendhal found the aesthetic of 1817 Florence so overwhelming as to punctuate his descriptors with exclamation points. "I had reached the point of celestial feeling," he wrote: "As I emerged from the porch of Santa Croce, I was seized with a fierce palpitation of the heart; the wellspring of life was dried up within me, and I walked in constant fear of falling to the ground."
Can you ever feel that in Craftsbury, Vermont? Hell, you can feel it in Clarion, Pennsylvania, or in Hendry Nelson's native Philadelphia. Or even in Montpelier. Maybe the point of a writer's life is to find that celestial feeling wherever you are. "When you go out in search of the miraculous," said Hendry Nelson, "you'll find it everywhere."
https://frontmatter.vcfa.edu/wp-content/uploads/2017/11/DSC06430.jpg
1067
1600
Blake Rong
https://frontmatter.vcfa.edu/wp-content/uploads/2018/09/VCFA-Logo-300x167.png
Blake Rong
2017-11-10 14:17:39
2017-11-10 14:17:39
Our Fourth Reading: Grounded In Place With Sean Prentiss, Jessica Hendry-Nelson