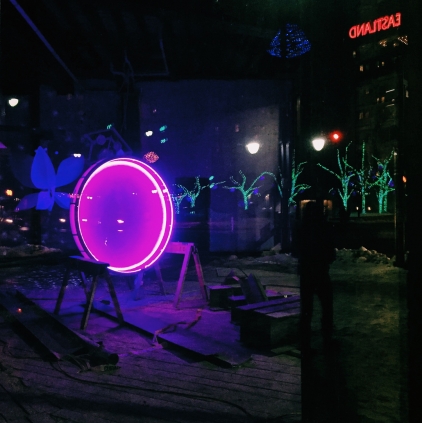 Aaaaand we're back!
After our first semester of intense writing, workshops, readings, and getting to know each other, we deserved a good break. And we got one: most of us went home (to points everywhere), while some of us stayed in town, soaking up the experience of a frigid and beautiful Vermont winter. To get a sense of how we experienced this lovely break, your humble chronicler asked fellow students of VCFA's Writing and Publishing program exactly what they did, what they read, and what they wanted to write for our Stage and Screen course.
Here are some illuminating answers.
What did you do over break?
Mariah Hopkins: I've been learning Spanish for my Fulbright application.
Desmond Peeples: Cared for my sick dog. She just had her second knee surgery yesterday. She's very resilient, and she looks really good with her legs shaved.
Paul Acciavatti: We went to Montreal. Mostly it was my wife's 35th birthday and her friends from college gathered to celebrate and eating and drinking happened. There is a stretch in Petite-Italie which increasingly features a bunch of halal butchers and Syrian restaurants like Alep (French for "Aleppo"). We ate in Le Petit Alep, we had the three-course tasting menu for $31 CAD each ($25) and it went on and on and on. We also ducked into the Maison d'Italie on a whim (my cousin was also there and she is wicked into the heritage). So it was definitely a feeling of MTL as an island of multiculturalism in the great white north.
Jad Yassine: I had two wisdom teeth extractions.
Kayleigh Marinelli: I got really sick and thought it would be a really good idea to go to New York City and got stuck on the NJ train for an hour and a half. I still got to see the dinosaurs at the Natural History Museum, though.
Sarah Leamy: I wrote a novel.
What books did you read?
Samuel Kolawole: I was reading short stories from journals—translated short stories from Words Without Borders. I'm starting to enjoy translated stories. Sometimes when the language is translated from the original into English, it still retains its energy.
Lennie DeCerce: The Chronology of Water by Lidia Yuknavitch. It's the best book I've read in years.
Gina Tron: Misfit's Manifesto by Lidia Yuknavitch on my flight to Iceland, which kept me grounded.
Mariah Hopkins: The Underdogs, written in the 1930s by Mariano Azuela. It's about his experiences during the Mexican Revolution.
Bianca Vinas: Murder on the Orient Express. I'd never read anything by Agatha Christie. I don't know if I liked it.
If you could make any movie of your dreams, what would it be about?
Jennifer Gibbons: A remake of "All About Eve" with Susan Sarandon in Bette Davis's role, Jennifer Lawrence as Eve Harrington, Tim Robbins in Gary Merrill's role, and Cherry Jones in Celeste Holm's role.
Lindsey Brownson: Some kind of modern-day reimagining of Stephen King's "Carrie," but with the Internet.
Lindsay Gacad: When I imagine what I'm writing, it's a mix between "The Godfather" and "The Joy Luck Club."
Cammie Finch: An experimental short film called "Fly:" a stationary camera focuses on a sporadic fly covered in red paint in a room, sparsely inhabited by humans, but no humans are currently present. The fly is hitting walls, hitting windows, trapping itself in blinds and lamp shades. The fly leaves a mark on each surface it hits. Post-production edits turn the shot psychedelic colors, then negative, then black and white, then sepia, etc. Music changes every minute or two, as well—from hip-hop to classical to electronic to world music to percussion to country, sometimes layering over each other—in order to change emotions of viewers. At the end, the fly is zapped by the overhead light and falls to the ground. Fade to black light. The "marked surfaces" glow. Fade to all black. Zoom in on dying fly, curling into itself. Zoom closer and closer, David-Lynch-style. All music combines together into a maddening wall of sound. Then sudden silence while the fly slowly disintegrates and crinkles to dust.
Sarah Leamy: A thriller/dark comedy based around croquet.
Authentic Sneakers | Air Jordan
https://frontmatter.vcfa.edu/wp-content/uploads/2018/02/blake.jpg
1082
1080
Blake Rong
https://frontmatter.vcfa.edu/wp-content/uploads/2018/09/VCFA-Logo-300x167.png
Blake Rong
2018-02-05 14:44:49
2018-04-27 17:03:42
Welcome Back, College