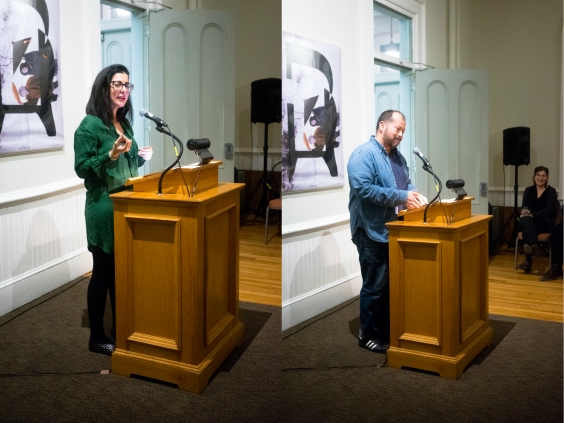 Porochista Khakpour and Alexander Chee, two very distinguished novelists, both with two books previously published, came to Café Anna for our fifth and last reading.
Khakpour, Faculty in Fiction, Novel, Memoir, and teaching a module in longform prose, went first. She read her essay "How to Write Iranian-America, or The Last Essay," originally published in Catapult. In the 4,000-word essay, she dissects what it means to be pigeonholed as an Iranian-American writer while operating in the American media landscape.   
"Worry about how you, young writer, will ever get to New York City," she read. "Write. Write about anything else…watch it come out, more and more in every draft: anger with your parents, frustration with your blood, anxieties surrounding the somehow still-new land—all that is Iranian-America. Let your truth come out hard and fast and untranslatable because no one else will see it anyway."
Next up was Alexander Chee, as introduced by second-year student Jennifer Kathleen Gibbons. Chee's latest novel, Queen of the Night, is a modern epic that recounts the life of a 19th-century opera singer in lush and moving detail. But at our reading, he read from a novel in progress, one that he started at the same time as Queen of the Night but had temporarily put aside. For a second, Chee said, "they were weird twins."
This second novel one concerned shamans, a Korean Joan of Arc, and adoption in New York. He introduced it with a Korean proverb: "You know who your god is by who you pray to when you are about to die."
Chee and Khakpour are fortunate enough to be friends, said Khakpour, adding, "we've been late to so many readings together." They last read at the Yale Writer's Conference this summer in New Haven, Connecticut (home of the greatest pizza in the world). We were one of the first people to hear Chee's words, said Khakpour; he had only previously read it among his friends. I'd say we're fortunate to be brought into their inner circles—as young writers, we could all use more cool writer friends.
https://frontmatter.vcfa.edu/wp-content/uploads/2017/12/reading-5.jpg
1600
2134
Blake Rong
https://frontmatter.vcfa.edu/wp-content/uploads/2018/09/VCFA-Logo-300x167.png
Blake Rong
2017-12-21 18:18:03
2017-12-21 18:18:03
Porochista Khakpour and Alexander Chee Star at our Last Reading of the Year