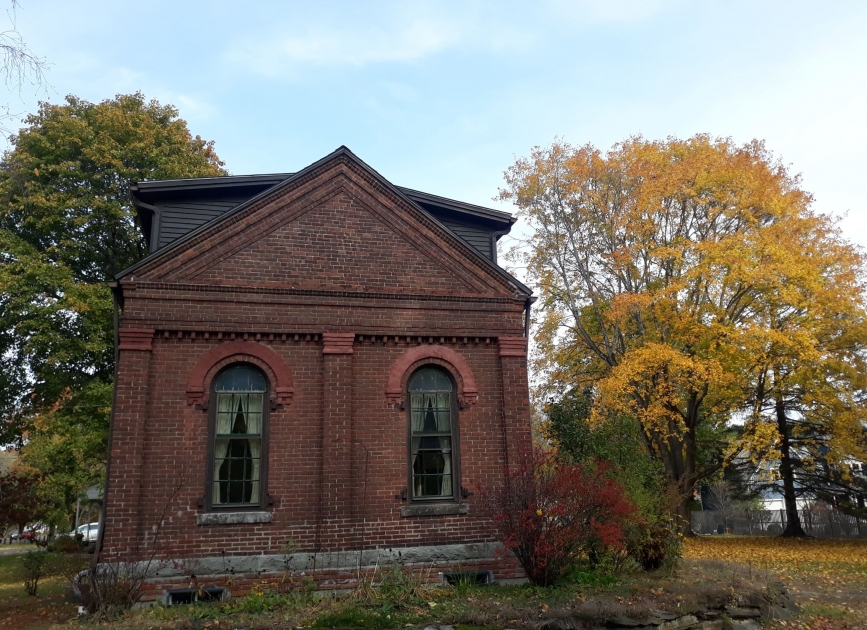 The semester keeps soldiering on here at VCFA. The weather can't decide what it's doing, but that's okay, since we students are keeping to our rooms studying hard and writing up a storm. We did, however, have our second virtual Zoom reading, featuring faculty members James Scott, Justin Bigos and Kelly McMahon. I encourage you to watch it here, but in the meantime, here's the rundown:
James Scott
The evening was led by James, the author of the bestselling novel The Kept, a finalist for the New England Book Award. I know I always rave about our teachers here at VCFA, but I must sing James's praises as well. We've just finished his three-week class on structure, and I feel like my writing toolbox is fuller than it has ever been. Hearing his take on rising action and learning about Inner Story/Outer Story will serve me well in my future writing career. If you ever get a chance to take a class or workshop taught by James—whether here at VCFA or elsewhere—take the class. I promise you it will be worth it.
James read to us from the fourth chapter of his forthcoming novel Restoration.
Set in Vermont, this is the story of a man who is desperately uncomfortable in his own skin and unhappily living life. Hillary is a diver who sometimes helps the State police with cases, who also owns an architectural salvage company. We meet him at his warehouse the day after he attempted suicide, in a scene with his employees where he is palpably awkward, unable to say the right thing or to connect with those around him.
In walks Mae. Hillary had met her a few days earlier after searching the lake for her missing husband. He found nothing and the husband is presumed dead. Mae has come to him, it seems, for comfort and advice. But Hillary, who still mourns the death of his wife, is hardly capable of such a task. He tries. In this poignant scene, the reader can compare the comfort and ease with which these two lost souls connect, with the awkwardness of the previous scene. The conversation leads Hillary to think "I almost tell her that I haven't talked to someone who listens to me for a very long time."
I want more. Much more. I guess I'll just have to wait till it's published. Hurry up, James!
Justin Bigos
Justin is one of the W&P program's permanent faculty, teaching our workshop classes, thesis
seminar and various modules. His poetry collection Mad River was published in 2017, and his chapbook 20,000 Pigeons was published in 2014. His cross-genre work has appeared in The New England Review, Ploughshares, The Rumpus, and Best American Short Stories of 2015. He is a co-founder and co-editor of Waxwing.
Justin read to us part of a story called "Riverside Drive."
He started in the middle of the story. The main character has grown up hearing a ghost story. A story his mother told and swears is true. Years later, this character wants to date a girl from high school, but before such a date can happen, he must have dinner with her parents, who are of a "hard-scrubbed" Christian persuasion. The date itself is the next night, which, due to that persuasion, must be chaperoned by the young man's decidedly secular mom. When it is time to drop the girl, Jackie, off at home, the mother recognizes the street and begins to tell the story of a boy she knew in high school.
The boy's family was part of a Christian society that sought to destroy those who would worship darker entities. The boy, however, opted to "court" ghosts and demons instead of vanquishing them. There is a bit about a ghost with Buddy Holly glasses, (who is the boy in question, I think) but the origins of his non-corporeal state are not revealed to us. (I'm guessing we have to read the whole thing. See below)
The story continues through time, from the mom when she was a teen, to the mom's  young husband, who calls priests to perform an exorcism. The day after the ritual is performed, the house burns to the ground.
But!
When the son (our main character and narrator) attempts to show his girlfriend the empty lot where the house once stood, the house is there again…Spooky!
Justin says you can find the story in The Indiana Review's "Ghost Edition". I may just have to look it up!
Kelly McMahon
Next, we had Kelly McMahon reading her poetry
. Kelly is described on the VCFA website as a poet who "walked into a printshop and never looked back." As visiting faculty, she teaches letterpress printing. She runs May Day Studios right here in Montpelier. Before falling for the smell of ink and paper, Kelly got her MFA in Creative Writing at California College of the Arts. (Truth be told, that's where she succumbed to her love of letterpress.) She read us poetry from back in the day and beyond.
She told us that most of her poems are short. Sound inspires Kelly's poetry, which is obvious from lines such as "Patient dog toe clicks across the floor."
One of the most interesting ideas she shared with us is something she thought of in grad school: She realized that "Poetry is that bridge between my thought and spoken word, and your receiving that thought" She calls that bridge "The Language Museum," and read a series of poems from this museum of the mind, including one called "The Docent" which was definitely on the creepy cool side. (Are you sensing a theme here?)
I was most captured by a series of interconnected poems titled "How to Grow", which was inspired by a book called "How to Grow African Violets" by Caroline K. Rector. As you can tell from the section I've included below, the results are not gardening advice:
#4 "Rooting"
She had been rootbound
and happy
a small town
a small apartment
extreme weather in
a life of folded plants
I was the larger pot that
forced expansion
the necessity of
more water
or sun
On the second date
I ordered a bottle of wine and
drank half
she raised eyebrows
but drank the other half
we toasted to change
and sunnier climates
we tripped down the
spiral staircase into
the snow.
(I hope Kelly will forgive me for any enjambment I may have unintentionally added or taken away. I transcribed this from the video, which I again encourage you all to watch!)
Our next reading on October 16 will feature faculty members Frances (Franky) Cannon, David Heska Wanbli Weiden, and Tavia Gilbert, and our own alumnx Ukamaka Olisakwe. Please join us online or keep watch for a rundown in this blog!short url link | Nike SB Dunk High Hawaii , Where To Buy , CZ2232-300 , Worldarchitecturefestival
https://frontmatter.vcfa.edu/wp-content/uploads/2020/10/armoury-building.jpg
1704
2346
Darla Hitchcock
https://frontmatter.vcfa.edu/wp-content/uploads/2018/09/VCFA-Logo-300x167.png
Darla Hitchcock
2020-10-18 20:39:38
2020-11-17 21:10:27
Fall Reading Series